Welcome back to the Elemental Hardwoods blog, the most in-depth hardwood species series on the web. Today's blog is a product spotlight for one of the most durable hardwoods in the world – Ipe.
Ipe is one of the most popular, and familiar, exotic hardwood species that comes out of South America; it is also one of the most diverse. Ipe is part of the Tabebuia genus, which includes approximately 100 different species of trees. These different varieties of Tabebuia can be found throughout Central & South America, the Lesser Antilles, and even in parts of southern Florida. Many of the species are used for timber, however, many others are considered decorative trees which are commonly found throughout neighborhoods, parks, city centers, etc, due to their beautiful flowers which are typically white, yellow, pink, or red.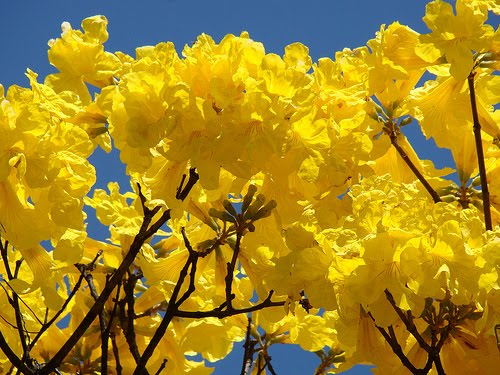 Ipe Tree
As a timber product Tabebuia is sold & marketed under many different names depending on what type of product you're buying and from which country you're buying it from. In the flooring industry Tabebuia is typically exported from South America as either Ipe (Brazil), Lapacho (Paraguay), or Tajibo (Bolivia). To complicate things even more, trade names have been developed, such as, Brazilian Walnut & Ironwood; all of which represent the same thing…Tabebuia.
Ipe Hardwood
One of the main characteristics of Ipe/Lapacho/Tajibo flooring is its strikingly wide array of color variation. Customers should always be clearly informed that this wood includes shades of brown, green, red, orange, black, yellow, & tan. You may see subtle color differences between the three depending on what region/country the trees are harvested from, but overall they are very similar in appearance.
Ipe Wood Color Variation
The grain of the wood is straight to irregular with a fine to medium texture. The woods hardness rating of 3680 (almost 3 times harder than Red Oak) is commonly used as a benchmark against which all other hardwoods are compared. Regarding stability, it has a very similar rating to Cumaru, meaning it can be a little temperamental in wider widths if proper installation procedures are not followed.
Ipe Hardwood Flooring
Additionally, if working with unfinished Ipe/Lapacho/Tajibo care should be taken to seal the floor immediately after the final sanding. This wood contains natural oils which, if left unsealed, will leach to the surface potentially causing adhesion & curing issues with the finish.
Elemental imports Ipe/Lapacho/Tajibo in 3/4″ x 3", 3-1/4", 4", & 5" widths. The product is typically Clear grade with 1'-7' lengths and is available both Prefinished & Unfinished.
If you have any questions regarding this species, or any of our other products, please don't hesitate to contact us.